Jakarta: Ustaz Abdul Somad, Lc, MA, an Islamic preacher is appointed as Zakat Ambassador of Indonesia by The National Board of Zakat (BAZNAS). His appointment as the Zakat Ambassador of Indonesia took place at the event of tabligh akbar in conjunction with BAZNAS charity for 10 tahfiz boarding school, and orphan foundations. The appointment of Ustaz Abdul Somad who is familiarly called UAS as Zakat Ambassador of Indonesia was conducted ceremonially by tributing a sash by Vice Chairman of BAZNAS, Dr. Zainulbahar Noor, SE, M.Ec.
Also present was Mohd Nasir Tajang, the Director of Distribution and Utilization of BAZNAS; H Mohamad Suryo Alam, Chairman of Baitussalam Mosque Foundation; as well as entrepreneur and local community figure, H. Ghozali and H. Budi Sudarmono.
"Alhamdulillah, Ustaz Abdul Somad is willing to be the Zakat Ambassador of Indonesia, hopefully his good image will further inflame the spirit of Zakat Awakening in this country," said Vice Chairman of BAZNAS, Dr Zainulbahar Noor, SE, M.Ec, at Masjid Baitussalam, Komplek Perumahan The Green, BSD City, Serpong, South Tangerang, Wednesday, July 11, 2018.
"We hope that by being an Indonesian Zakat Ambassador. He will be able to invites muslims in Indonesia to pay zakat through official zakat institutions that will further optimize the zakat movement and the motto of 'strong because of zakat,' so that zakat can be a community lifestyle," said Zainul, the former Indonesia Ambassador to Jordan.
in that event, UAS conveyed a tabligh akbar with a theme 'Live Following Sunnah' that was attended by thousands of ummah. "Let's pay zakat to BAZNAS, do not let us eat ill-gotten wealth as there is the right of the poors in it," said UAS.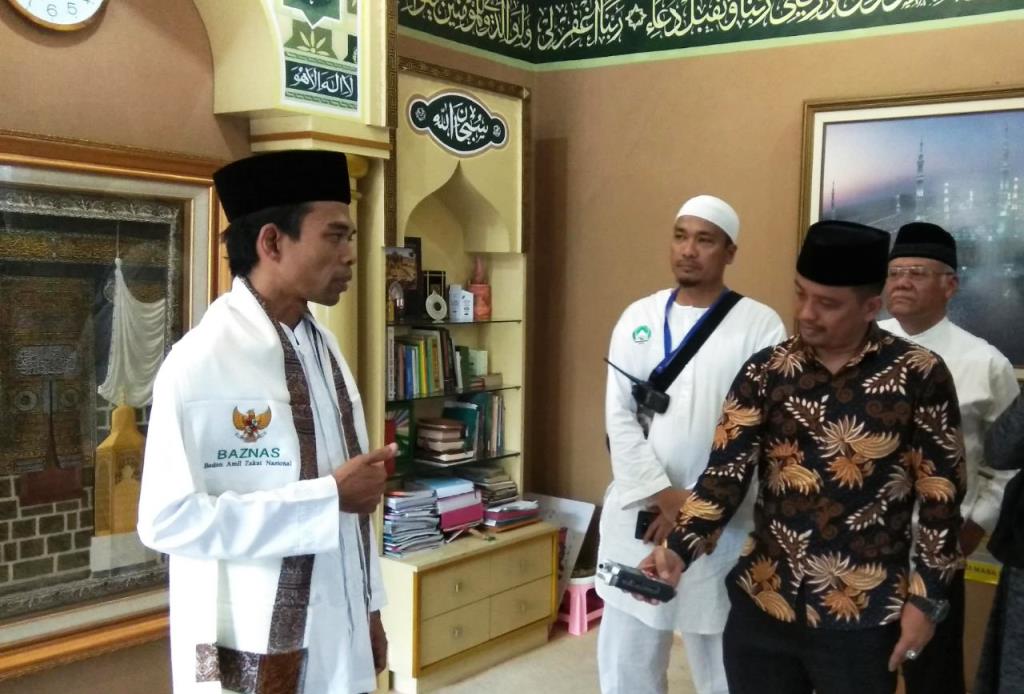 For information, UAS was a member of BAZNAS Riau Province (2009-2014); members of MUI in Riau Province (2009-2014); and Secretary of Bahtsul Masa'il Nahdlatul Ulama Institution in Riau Province (2009-2014).
UAS completed his primary education at Al-Washliyah Elementary School in 1990 and Madrasah Tsnawiyah (MTs) Mu'allimin Al-Washliyah (1993) Medan, North Sumatra. After that, he continued for high school education at Madrasah Aliyah (MA) Nurul Falah, Air Molek, Indragiri Hulu (Inhu), Riau (1996). He took his undergraduate degree at Al-Azhar University, Cairo, Egypt; and postgraduate degree at Dar Al-Hadith Al-Hassania Institute, Morocco.
Previously, BAZNAS has appointed ESQ founder Ary Ginanjar and former Director General of Hajj and Umrah of the Ministry of Religious Affairs, Anggito Abimanyu as the Zakat Ambassador. BAZNAS has also appointed a celebrity, Peggy Melati Sukma as Ambassador of BAZNAS for SDGs, a UN sustainable development program.
(ref: http://news.metrotvnews.com | Puskas News)