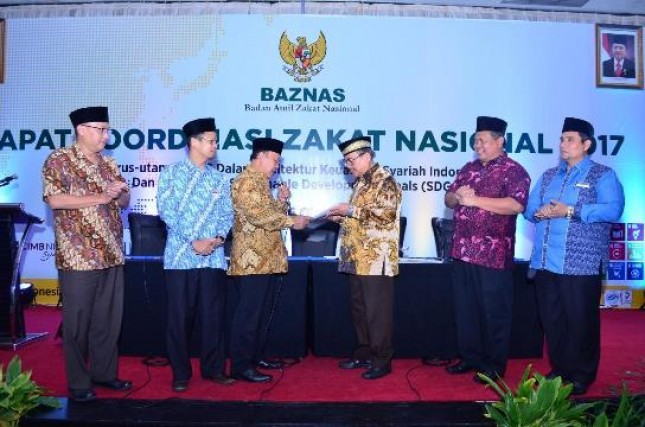 Jakarta- National Zakat Coordination Meeting (Rakornas) 2017, gave birth to 30 resolutions. Rakornas run smoothly and closed at Thursday (5/10/2017) night.
"Rakornas was smooth and full of enthusiasm.This is a sign that the future movement of zakat awakening will be easier," said BAZNAS Member Prof. Dr. Mundzir Suparta, MA after leading the last plenary session Rakornas 2017, Jakarta, Thursday (5/10/2017).
Symbolically, Mundzir submitted the draft resolution to BAZNAS Chairman Prof. Dr. Bambang Sudibyo and representatives of BAZNAS Papua Province, Aceh Government and one of the representatives of Amil Zakat Institution (LAZ).
The resolution includes encouraging the Ministry of Finance to issue a policy of making zakat as a tax deduction instrument.
In a session attended by around 600 participants, Mundzir was accompanied by Deputy BAZNAS Arifin Purwakananta, Secretary of BAZNAS who is also Head of Rakornas Committee Jaja Jaelani, and two directors of BAZNAS Mohd Nasir Tajang and Wahyu TT Kuncahyo.
"I appreciate the committee and Mr. Jaja Jaelani. This event can be opened by the Vice President of Indonesia Jusuf Kalla as well attended by Minister of Religious Lukman Hakim Saifuddin," said Bambang Sudibyo in the closing speech Rakornas 2017.
Bambang is also grateful to the many speakers who provided good input for the progress of BAZNAS. "Like the Minister of PPN/Head of Bappenas Prof. Dr. Bambang Brodjonegoro and zakat expert Prof. Dr. Didin Hafiduddin," he said.
On the occasion, Prof. Bambang as the former Minister of National Education and Minister of Finance, appreciated the humanitarian aid fund for Rohingya refugees. This fund collected from BAZNAS Provinces and BAZNAS Districts Rp 1.5 billion and Rp 2 billion from BAZNAS, with the total reach Rp 3.5 billion.
"This donation will be distributed by the BAZNAS Disaster Response Team (BTB) to Rohingya refugees in Myanmar and the Bangladesh border" said Bambang.
Meanwhile, Mr.  Jaja Jaelani, hoping Rakornas can spur and trigger the awakening of zakat in this country. According to him, the activity of Friday (6/10/2017) followed by the socialization of the National Zakat Index (IZN) and the Zakat Village Index (IDZ) which has been formulated by the Center of Strategic Studies, BAZNAS (Puskas Baznas).
Source: industry.co.id | puskasbaznas.com